The system I am going to use this on I have to have a SATA drive. Because I did not make room in the case for it and don't want a big IDE ribbin cable to come out of it.
So I order a 320 GB SATA drive. Just cost $61.50 with free shipping. That way I can just copy all the files over and keep the other one as a backup.
I wanted a small PC just to do my email and some web things and to just stay on all the time. So did not want it to use a lot of power. This setup only uses about 35 watts. Less then $1 a month for the power.
After I made it I found they have a better Mini-ITX that uses a Atom CPU. So I had to make another case. So I had this one left over and it will be very good to use as a NASlite-2 HDD. The one I am using now is on a 500 Mhz 256 MB ram big PC mother board. I am sure it takes a lot more watts like 250 or so.
This one is a Mini-ITX with a 1.20 MHz Celeron CPU and 1 GB ram.
Here is a photo of it with out the hard drive till I get it.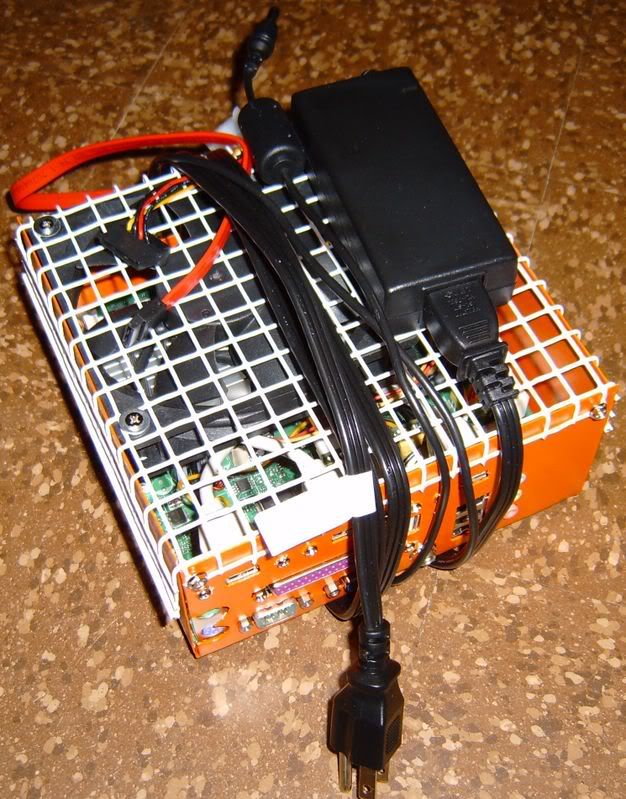 Wanted to make the case as small as I could.
I will buy a new NASlite-2 HDD when I get the hard drive to set it up on it and then just drag and drop all the files to copy them over. Then turn off my other system and just use it as a backup. Maybe truning it on one time a month or so to copy update data to it for a backup.
Wile I am waiting for the hard drive would this be the best way to copy all to it? Maybe FTP to both of them?
O the new Mini-ITX I have now don't need a fan. It's 1.60 GHz Atom CPU and takes 2 GB of ram. It comes with a small fan just for the on board Video. Nothing else gets real hot to use a fan. Not even the CPU, It just has a little heat sink on it. So I installed the hard drive in it. That board only cost about $70 too. A Intel one. Check out other slower Mini-ITX and they cost like $200!
-Raymond Day